As we're busy developing The Border by Afsaneh Grey (an outrageous Brechtian parable) our work placement Leah has been off on a Brecht fact finding mission.
Did you know all of these? Which is your favourite?
The terror of war lead Brecht to question society and politics.
Brecht didn't like realistic acting, he wanted his audience to politically comment on the message of the performance.
Brecht style of theatre was called Epic Theatre, it was known for the creation of a new political theatre.
Brecht wrote fifty plays, his famous plays are Life of Galileo, Mother Courage and Her Children and The Caucasian Chalk Circle.
Verfremdungseffekt, also  known as the alienation effect, was used to distance the audience from the play.
Brecht was influenced by Chinese theatre and Karl Marx.
The playwright Eugene Lonesco called him a postman, because he was always delivering messages in his plays.
Gestus, an acting technique which means gesture, was developed by Brecht and it is the physical action on stage that communicates social meaning.
His plays were banned in Germany in the 1930s.
After military service during WW1 he abandoned his medical studies to pursue writing and the theatre.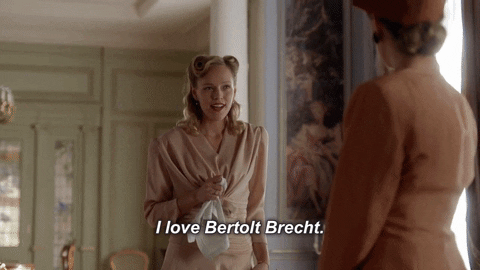 Has this got you giddy about gestus? Excited for some epic theatre? Find out more about The Border and the upcoming autumn tour here.